Sussan Ley has been moved into Health.
Peter Dutton was clearly out of his depth in Health!
I wonder what will happen next?
She must be thrilled to have been given the unresolved PCEHR problem to fix!
David.
All the major details are here:
Australian Defence Minister Dumped From Office As Tony Abbott Reshuffles Cabinet
Prime Minister Tony Abbott. Photo: Getty / File
Tony Abbott has announced a cabinet reshuffle, promoting Scott Morrison and dropping defence minister David Johnston in changes the prime minister says will "refocus the government" on driving economic reform next year.
Abbott described it as a "ministry for jobs and families" and said the government would be putting the economy at the centre of its agenda.
Morrison has been promoted to minister for social services. Abbott said Morrison was a "master of difficult policy" and that his ministry was "essentially a ministry for economic participation" that would encourage people "to give a fair go".
Morrison will be responsible for crafting a "wholistic families package" that will be at the centre of the economic reform agenda next year. The move gives Morrison carriage of changes to Abbott's controversial paid parental leave policy, which has been losing support among Coalition MPs.
Peter Dutton moves from health to immigration and border protection.
Sussan Ley takes Dutton's previous role as health minister, becoming the second woman in Cabinet along with foreign minister Julie Bishop.
Full article here:
http://www.businessinsider.com.au/tony-abbott-cabinet-reshuffle-2014-12
D.
Full list: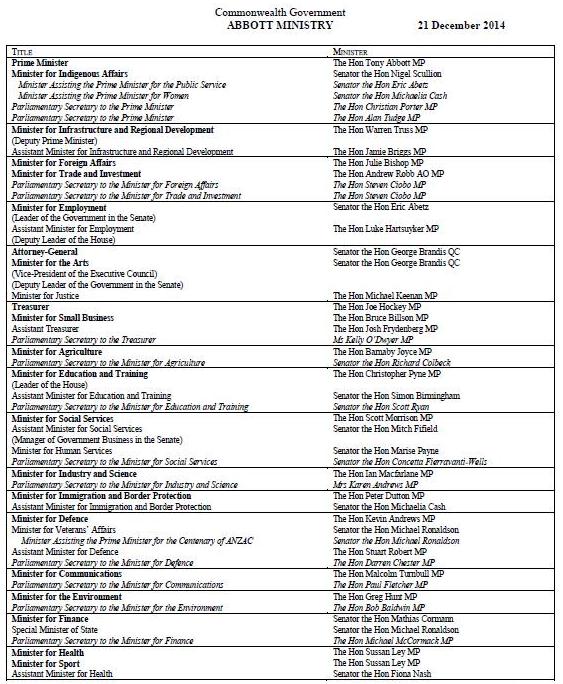 D.